Atlanta Sports Cards
Weekly Baseball Card Hot Sheet
By James Kennedy and Jim Graham
1. 2010 Bowman Draft Anthony Rizzo Retail Autograph

An absolute diamond in the rough…this card moves from $5-$8 to $60 virtually overnight, with a PSA 10 selling for $220.  His Bowman Chrome cards are up, bot not nearly as much….which leads us to believe whether one is better off buying Retail 2009-2010 Bowman Autos of top prospects that the Chrome counterparts.  Downright wierd.  Only comparison is the 2009 Retail Buster Posey card which reached $100….but that was when the chrome autos were $200.
2. 2005 Bowman Sterling Andrew McCutchen Auto Jersey BGS 9.5/10

$30 and change last week, then after a walk-off homer and a pair of GWRBI's, and add in the fact that the Pirates briefly hit .500, and you get a $100 price last night.
3. 2011 Bowman Dillon Gee Autographs

First NY Mets player to start 7-0 in 1st 7 decisions.  This card was below $10 at release and a week ago was still under $20.  $55 is the cheapest you can find a blue refractor nowadays.  What a sleeper.
4. 2008 Razor Brett Lawrie Autographs

Shocked to see Lawrie Razor move from $20 to $50 this week.  They may have dropped back a tad, but here is proof Razor is back….not that this author has been harping about 2008 Razoron his blog all year….but I digress…2008 Razor, led by Lawrie and Hosmer, has re-arrived.
5. 2011 Bowman Kody Hinze Refractors

The Class-A Home Run leader's red refractor sold for $115 this week.  Compare that to Juan Nicasio Red Refractor, a MLB callup from the same set ($75), and you can tell Hinze is on the way up.  Although gold refractors can still be stolen at about $30-$40, no one (or at least 2 people) is sleeping on a rare red auction, as Hinze last week wasnt bringing a dollor or 2 for blue refractors.  Check his numbers- he has power plus.  Next year's Goldschmidt??
6. 2010 Bowman Platinum Pat Corbin Autographs

#2 on BA.com Hot Sheet:  Tyler Skaggs might have been the most recognizable name the Diamondbacks received from the Angels in last season's Dan Haren trade, but with his performance this season, Corbin has proven to be much more than a throw-in. Los Angeles' second-round pick in 2009, Corbin completed two masterful pitching performances this week in which he allowed only one run over 15 innings to a pair of middle-of-the-road Southern League offenses, Huntsville and Birmingham. He matched a season high with 10 strikeouts in yesterday's start, as he fanned Barons lefty batters Tyler Kuhn (who ranks second in the SL batting race) and Seth Loman three times apiece.
Corbin got rocked for nine runs on 13 hits in his May 19 start, but if we toss that one aside and consider the other five starts he's made since May 14, the results are startlingly good. In that time he's gone 5-0, 0.27 with 40 strikeouts, seven walks (with another two hit batters) and just 22 hits allowed over 33 2/3 innings.
The Bowman Platinum has risen from $1 to $8, and Blue versions /50, which previously sold at $8, are now being sold around $50.
7.   2008 Razor Baseball Hobby Wax Box

Up 100% from the offseason, the now $75 box was as low as $40 two weeks ago.  Brett Lawrie and Eric Hosmer driving the product for now….more to come.
8. 2011 Bowman Paul Goldschmidt Blue Refractor Auto

Leads Minors with 20 HRs, the blues are up $60 to $200 this week.
9. 2007 Bowman Dellin Betances Autographs

A base auto last sold for $19….there is one base auto at auction that is at $19 with 5 days left.  This one is gonna blow up.
10. 2008 Donruss Threads Carlos Peguero Autograph

Up 100% since last week's small dip.  Still producing.
11 2005 Bowman Draft Jacoby Ellsbury Autographs

The fantasy stud is playing better than he ever has, currently owns a 8-game hit streak (his second that long of the seaon), and his best card is showing that.  Refractor versions were selling for $60 last week, and this week base autos have topped that.  not huge gains, but enough of a trend to remind people that this card once neared $200.  With ALL Red Sox players "in play" because of their seemingly easy run to the playoffs from here, the highest ROI may be with Ellsbury.
12. 2011 Bowman Jurickson Profar Gold Refractor Auto

Cold, numbers wise, the Gold Refractor jumped $100 since the products inception, to $250 a copy.  Sell!
13. 2007 Bowman Draft Devin Mesoraco Autographs

Anyone familiar to my Minor League Updates knew I had placed a 5 star buy on Devin when this card dropped to $5.  They were rewarded this week as it jumped to $15.
14. 2010 Dylan Bundy AFLAC

This card reached $90 on draft day, but has since dropped back to $50.  Still an accomplishment, as this card sat at $20 just 10 days ago.  250 copies exist.
15. 2008 Sterling Greg Halman Autographs
A PSA 10 base auto sold for $40 this week with Halman's debut in Seattle.  This jump will be short-lived as Halman's average sits around .240 lifetime in the minors.  The PSA 10 was bought for $3 by yours truly in the offseason.  Another STRONG SELL here.
16. 2011 Bowman "Bowman's Best" Bryce Harper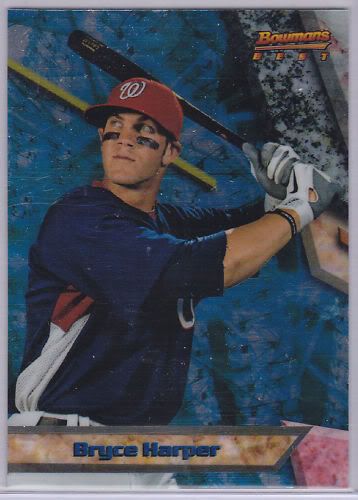 As the rest of 2011 Bowman Harper's collapse in price across the board- the base Auto is down to $300, the blue down to under $500, and refractor parallels tanking, its starnge that these cards have jumped $10 to $25.  Everyone blow Bryce a kiss….
17. 2011 Bowman Dee Gordon Autographs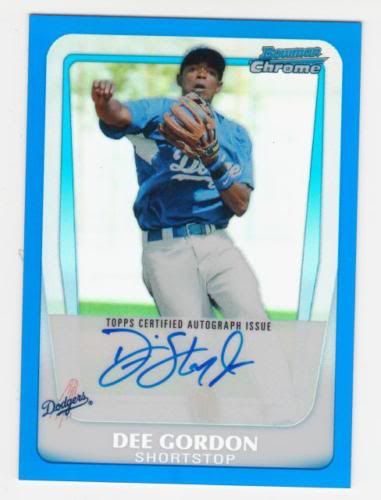 His callup sent his golds soaring from $65-$75 to $140.  A more intriguing card is the 2008 Bowman Chrome parallel, or the 2010 Elite SP Auto /301.
18. 2008 Bowman Chrome Mike Moustakas Autographs

A little birdie (me) told everyone last Sunday that both Moustakas and Rizzo would be called up this week.  Psychic?  Who am I, Gary Brown?  Nope, just perceptive, as anyone listening got paid off on Rizzo's, and to a lesser degree, Moustakas, whos up 25% across the board.
19. 2010 Bowman Chrome Vance Worley Refractors

On the BA hot sheet, these once common gold/orange refractors have soared to $15/$25 respectively.  Sell.
20. 2010 Bowman Sterling Taijuan Walker Autographs
My #1 buy right now, friends at FCB correctly showcased Walker at #2 on their weekly Hot Sheet.  Although I was able to pick up a BGS 9.5/10 of the trickier Elite auto @ just $20, these cards ARE trickling upwards, and Taijuan beats out the rest of the competitors to earn the #20 spot.
Many thanks to Gary Brown for Tweeting our "Prospect Alert" to his followers this week.  Anyone NOT following Brown on Twitter is missing a show.  Keep an eye on Brown to EXPLODE in price as mid-season approaches.
Thats all folks.  Meaty Hot Sheet this week.  Have a great week, and check in daily for all new features on the Cape League, new product box breaks, and the release of 2011 Bowman Platinum.
Tags:
aflac auto
,
aflac autograph
,
andrew mccutchen
,
atlanta hot sheet
,
atlanta sports
,
auction
,
Auto
,
Autograph
,
baseball
,
baseball card
,
Blue
,
bowman chrome
,
bryce harper
,
bryce harper autograph
,
buster posey
,
callup
,
callup lawrie
,
dellin betances
,
dollor
,
Draft
,
Ellsbury
,
gold refractor
,
halman
,
hinze
,
Hot
,
hot list cards
,
hot sheet
,
hot sheet atlanta
,
hot sheet june 12th
,
hot sheet june 13th
,
hot sheet june 14th
,
innings
,
jacoby ellsbury
,
mike moustakas
,
moustakas callup
,
orange refractor
,
pair
,
paul goldschmidt
,
peguero
,
PSA
,
razor
,
refractors
,
rizzo callup
,
Sheet
,
sports
,
Threads
,
top prospects
,
week wasnt
Tags: aflac auto, aflac autograph, andrew mccutchen, atlanta hot sheet, atlanta sports, auction, Auto, Autograph, baseball, baseball card, Blue, bowman chrome, bryce harper, bryce harper autograph, buster posey, callup, callup lawrie, dellin betances, dollor, Draft, Ellsbury, gold refractor, halman, hinze, Hot, hot list cards, hot sheet, hot sheet atlanta, hot sheet june 12th, hot sheet june 13th, hot sheet june 14th, innings, jacoby ellsbury, mike moustakas, moustakas callup, orange refractor, pair, paul goldschmidt, peguero, PSA, razor, refractors, rizzo callup, Sheet, sports, Threads, top prospects, week wasnt