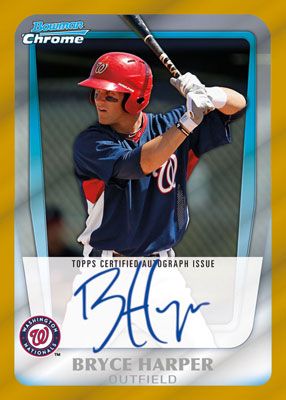 Atlanta Sports Cards
Product Preview- 2011 Bowman Chrome Baseball
By Jamie Kennedy
When you think about past Bowman Chrome releases, as long as you leave out last year's, you should have fond memories.  In 2001 the Albert Pujols "card of the past 2 decades was released."  In 2002, the on-card Chrome autograph rookies solidified a new "must-have" card for any given rookie.  David Wright led the way, and at times, a non-autographed Francisco Liriano card brought $150-$200 per mint issue. (You got 8 of the 100 rookies per box).  Today, even the Jose Bautista holds on as a must-have card from 2002.  2003 brought a forgetful product, and 2004 ended up weak as well other than Felix Hernandez.  2005 saved most of the big cards for Bowman Draft.  2010 Bowman Chrome had Strasburg autos; but so did 2010 regular Bowman and Draft later that year.  2007 stuck out for its auto incusion of Tim Lincecum, and at the time, Joba Chamberlain and Fernando Martinez. 2007′s Trevor Cahill made a run this year after his 7-0 start but has since retreated. 
The issue from 2010 has been much discussed.  Overproduction led the way as everyone ordered a lot, and a lot was thus printed, during the Strasburg Era.  The product was supposed to have Buybacks from the earlier Bowman issue that would have had Bryce Harper's first chrome auto.  This, although promised by Topps, was never included, and redemption packs were given per every box of wrappers you sent in.  That wasn't fun on the whole, as most packs had black bordered afterthoughts.  Topps must have learned their lesson, as 2011 Bowman was not mass produced despite similar pre-release demand.  I'd imagine 2011 Bowman should be a much shorter print than 2010, which sells way below what other years do, and probably under cost.
The current checklist of rookies includes 2 groups:
(RC) Logo Autographs of players which already reached the majors, and
Prospect Autos of players that are still in the minors.
The players that have have made the majors, that are on the current checklist, that I am excited to see in any product, are:
| | | |
| --- | --- | --- |
| BCP175 | Brett Lawrie | Toronto Blue Jays® |
That's it.  But his 2008 Razor isues are so high, this card may start out at $50-$70 per base chrome.  Yep, it will be in that high of demand.  The only other Major Leaguers I'm mildly excited about, are:
| | | |
| --- | --- | --- |
| BCP177 | Jordan Lyles | Houston Astros® |
And he's had a rough year.  I'll tell you who I'd be surprised (although most are in Topps Chrome) if they DIDN'T make it on the final checklist:
1) Eric Hosmer (who may have been added already)
2) Jose Altuve (who has a non-auto in 2010 Bowman but JUST got called up weeks ago)
3) Michael Pineda (has a non-auto in 2009 BC)
4) Danny Espinosa (ROY potential along with Freeman and Kimbrel)
5) Zach Britton (in 08 BC and 07 EEE)
For now though, these cards are not on the checklist.  There's time though, and "subject to change" has been a way of life for Topps lately. 
The Good: Plenty of prospects are here though that don't have chrome autos in previous Bowman products.  My favorites:
| | | |
| --- | --- | --- |
| BCP111 | Bryce Harper | Washington Nationals® |
Not much needed to say about this.  Base cards should run $200-$250, with Blue Refractors commanding $750 or more.
A 2010 EEE guy, he is still very young and talented besides a weak year.  This card, in Blue Refractor version, should command $60-$70.
| | | |
| --- | --- | --- |
| BCP182 | Keyvius Sampson | San Diego Padres™ |
A 2010 Bowman Platinum guy who makes his Bowman debut.  Was among the Minors ERA leaders this year and is a bonafide prospect.  Blue Refractors should start at about $65-$75.
| | | |
| --- | --- | --- |
| BCP180 | Trey McNutt | Chicago Cubs® |
The Cubbies #1 or #2 preseason prospect, McNutt battled injuries through 21 starts, and put up miserable numbers.  Last year though he had a 37 BB/132 K rate in 116 innings and won 10 games.  Just 21 years old, he could still return to last year's form where he posted a .217 average against, and and an ERA of 2.48.  Blue Autos will start in the $40-$50 range.
| | | |
| --- | --- | --- |
| BCP181 | Anthony Ranaudo | Boston Red Sox® |
The Red-Sox early draft pick in 2010 had an ERA just under 4.00, and had 113 Ks in 122 innings, while walking 44. He showed flashes of brilliance over 2 A ball stops, but did not justify the 5+ million dollar bonus he got from the Sox; the only reason he wasn't a Top 5 pick in 2010. He turns 21 this month, so there's plenty of development still expected.
| | | |
| --- | --- | --- |
| BCP133 | Manny Banuelos | New York Yankees® |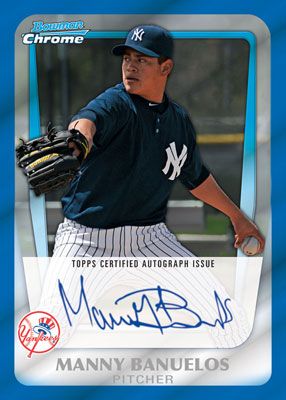 Banuelos was so hot in the offseason as the Yankees' top prospect, his lone auto, a TriStar release in 2010, was selling for $60 a pop.  Times have changed.  For some reason, beyond my understanding, Banuelos interest waned, despite the fact that having just turned 20, he pitched in AA and AAA very well.  With a modest 66BB/124 K ratio over 128 innnings, his ERA was 3.59 in 21 starts at AA, but just 3.03 in 6 AAA starts.  With a .264 BA against, some feel he is too hittable to be mentioned in the same breath as Julio Teheran or Matt Moore.  That may be.  But Banuelos is younger, more raw, and plays for the Yankees, a major factor.  His base should open at $25 to $30 and Blues should run near $100 at release.  2007 Bowman Chrome's Dellin Betances isn't much older and is probably the better Yankee pitcher in terms of pure ROI.
| | | |
| --- | --- | --- |
| BCP134 | Chris Archer | Tampa Bay Rays® |
Up and down prospect acquired in the Garza trade, Archer's main weakness is control, walking 85 to 124 Ks in 140.1 innings.  A fireballer with a 2010 Bowman Platinum Exchange Bonus Auto, he just turned 23, so time is running out here.  Blues should only hit $35 at this point.
| | | |
| --- | --- | --- |
| BCP185 | Jacob Turner | Detroit Tigers® |
He's a stud 20 year old for the Tigers organization.  3.44 ERA over 20 AA and AAA starts.  This card will do $30 for a base, and $100 for a blue.
| | | |
| --- | --- | --- |
| BCP160 | A.J. Cole | Washington Nationals® |
Born in 1992, he had a 5:1 strikeout to walk ratio in 19 A-level Sally League games.  Nice sleeper.  Blues will be nice pickups at $38-$45
| | | |
| --- | --- | --- |
| BCP165 | Nathan Eovaldi | Los Angeles Dodgers® |
Eovaldi should be the best pickup in the set.  At just 21, he did well in AA, with a sub 3 ERA and a decent K/BB ratio.  Blue Refractors should only cost $30-$40
| | | |
| --- | --- | --- |
| BCP167 | Garrett Gould | Los Angeles Dodgers® |
Great story in Low-A Midwest League with a 2.30 ERA and a .219 BA against in 23 starts.  Another great sleeper: he was born in 7/91, and was a 2nd round draft pick for the Dodgers in 2009.
| | | |
| --- | --- | --- |
| BCP183 | Jordan Swaggerty | St. Louis Cardinals |
Best known for having Magic Johnson's auto on his Elite 2010 card, he dialed in a 1.87 ERA in his first season, but only 5 of his 30+ appearances, were starts.
What else?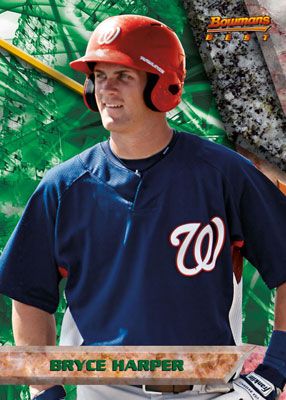 Just more Bowman's Best cards; not sure how much Bryce will bring since this is version 2.0.
A very cool die-cut insert.  BC Futures has a nice checklist.
Forecast:
Will it be a good item to pre-buy?  At $62/box, there's too much variety in the auto set compared to last year's (a good thing), and too many Harper items that could make breaking the product worth it (another good thing.)
USA auto's will be represented, although they are TBA's on the checklist, these will be well sought after.
The non-auto cards are well represented as well.  Nick Castellanos, Harper (non-auto), and several others will keep it from being a 1 hit per box rip.
Should you pre-buy it?  I can't see it being less than $60.  So the answer is yes, and I'll give it an A-.
(That represents pre-sell price compared to what it will be.  If I gave it a D, it would be an item NOT to pre-buy.)
Autos- Plenty on the checklist, with TBA's certainly to add value (like Hosmer).  The USA's are a HUGE bonus, and that will prove true in years to come.  Harper makes it great:  A
Inserts- Bowman is having a great 2 years of inserts: the Topps 100 insert in 2011 Bowman sells over-Beckett per 100 card set.  These, especially the 2001 throwbacks, should follow suit.  A
Overall- Bowman is back on track, and unless this is over-produced, which I doubt, but cannot be sure of, looks like a long-term winner: A
COMING TOMORROW:
2011 Panini Timeless Treasures
 Football Box PREVIEW!
Tags:
albert pujols
,
atlanta sports
,
baseball
,
Blue
,
bowman chrome
,
card
,
Chrome
,
EEE
,
Era
,
felix hernandez
,
fond memories
,
francisco liriano
,
innings
,
issue
,
jose bautista
,
mint issue
,
prospect
,
reason
,
tim lincecum
,
trevor cahill
Tags: albert pujols, atlanta sports, baseball, Blue, bowman chrome, card, Chrome, EEE, Era, felix hernandez, fond memories, francisco liriano, innings, issue, jose bautista, mint issue, prospect, reason, tim lincecum, trevor cahill